Omegabiane EPA
Eicosapentaenoic (EPA) and docosahexaenoic (DHA) omega-3 fatty acids support normal heart function.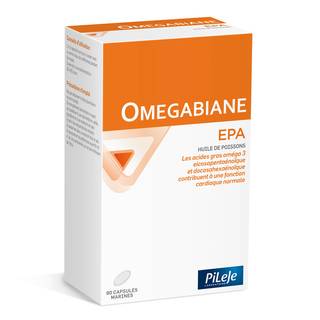 Box of 80 marine capsules.
Description
• OMEGABIANE EPA: The oil used is extracted exclusively from wild, pelagic fish; primarily anchovy, sardine and mackerel. These fish are caught off the coast of Chile (South Pacific). The oil is obtained from the flesh of these fish. The Omegabiane EPA capsules have been formulated to provide the quantity of omega-3 recommended in the 2010 RDI guidelines. One capsule contains 180 mg of EPA and 118 mg of DHA.
• The QualitySilver® registered trademark guarantees optimal and durable levels of quality for the selected fish oils.
• The Friend of the Sea® ecolabel certifies that the fish used to make the fish oil are caught using sustainable fishing practices in sustainably-managed fishing zones.
• The "Pollutants No thanks" logo attests to the high purity of selected fish oils containing contaminant levels at the limit of detectable.
Ingredients
• Concentrated fish oil > Provides omega-3 fatty acids (EPA and DHA)
• Capsule (fish gelatine, gelling agent: glycerol)
• Antioxidant: rosemary extract Rosmarinus officinalis (leaves)
Nutritional composition:
| Typical values | Per capsule | For 3 capsules |
| --- | --- | --- |
| Fish oil | 621 mg | 1863 mg |
| > of which omega-3 polyunsaturated | 357 mg | 1071 mg |
| > of which eicosapentaenoic acid (EPA) | 217 mg | 651 mg |
| > of which docosahexaenoic acid (DHA) | 118 mg | 354 mg |
Instructions for use
Take 1 to 3 capsules per day.
During 26 to 80 days.
Swallow with a glass of water, ideally during a meal.
Store in a cool, dry place.
The effective daily dose of DHA and EPA is 250 mg for everyone. The recommendation is therefore that the daily diet should include foods that contain EPA and DHA (rapeseed oil, walnut oil, oily fish, etc.).
Also discover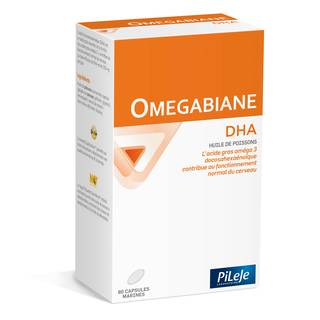 DHA (docosahexaenoic acid) supports normal brain functioning and helps
to maintain normal vision.
En savoir plus