Phytostandard® Noyer
Phytostandard® Noyer capsules is a food supplement based on organic walnut extract (Juglans regia L.).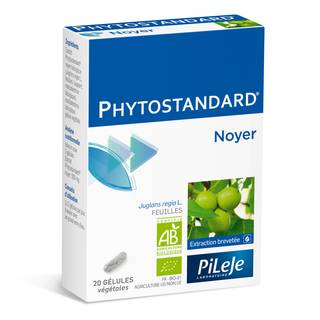 Description
• Vegetarian capsule.
• For more than 20 years, PiLeJe has been developing its know-how in phytonutrition and focusing its demands on the quality of the original fresh plant. The Phytostandard® brand thus brings together high quality plant extracts resulting from this expertise.
• Each plant can contain up to 250 compounds in its cells. All of these compounds form the totality of the plant. The extraction process is a key factor in preserving all the plant compounds. For the walnut extracts, we have selected the parts of the plant richest in compounds: the leaves of walnut (Juglans regia L.) to elaborate the food supplement Phytostandard® Noyer capsules.
• How are the walnut extracts for this Phytostandard® selected?
Walnut is a slow-growing tree that can reach 25 m in height. Originally from the Near East, it was introduced to Europe by the Romans during Antiquity. The nuts it produces are used in cooking. In our Phytostandard® extract, the leaves are used. They come from French areas. They are picked by hand, in July and August when they are still green because it is at this stage that they are the richest in compounds.
The fresh leaves are frozen after harvesting to preserve the compounds. The leaves are then crushed and extracted using the Phytostandard® process, which is recognised for its respect for the integrity of the plant's compounds. The walnut extract obtained is alcohol-free. It is then freeze-dried, i.e. cold dehydrated to be put into a vegetable capsule.
The manufacturing process, from the Phytostandard® extraction to the capsule filling, is carried out in France, which allows product traceability from production to distribution.
• Certified Organic Agriculture, Phytostandard® Noyer capsules guarantees that at least 95% of its agricultural ingredients are ORGANIC.
Ingredients
• Walnut extract > Juglans regia L. (leaves) organic
• Organic maltodextrin
• Vegetarian capsule
Nutritional composition:
| Values | For 2 capsules |
| --- | --- |
| Walnut extract (leaves) | 500 mg |
Instructions for use
Take 1 or 2 capsules a day.
Swallow with a large glass of water.
Store in a cool, dry place.
Precautions
Not recommended for pregnant or breast-feeding women and children.