Phytostandard® Griffonia
Phytostandard® Griffonia capsules is a food supplement based on organic Griffonia extract (Griffonia simplicifolia).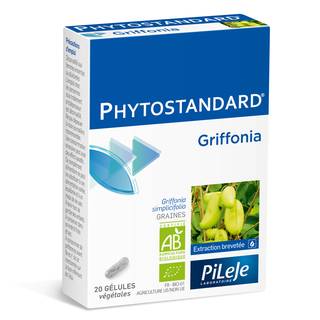 Box of 20 capsules.
Box of 60 capsules.
Description
• Vegetarian capsule.
• For more than 20 years, PiLeJe has been developing its know-how in phytonutrition and focusing its demands on the quality of the original fresh plant. The Phytostandard® brand thus brings together high quality plant extracts resulting from this expertise.
• Each plant can contain up to 250 compounds in its cells. All of these compounds form the totality of the plant. The extraction process is a key factor in preserving all the plant compounds. We have therefore selected the parts of the plant richest in compounds: the seeds of Griffonia (Griffonia simplicifolia) to elaborate the food supplement Phytostandard® Griffonia capsules.
• How are the griffonia extracts for this Phytostandard® selected?
A plant native to West Africa, Griffonia grows naturally in the forests in the form of a liana or in the savannah as a shrub. We select our fresh griffonia seeds in Togo and French Guyana, countries where the plant is abundant, to ensure sustainable agriculture. Harvesting griffonia seeds requires real know-how. We support our local producers in their mastery of the cultivation of this plant by providing them with manual production tools that respect harvesting techniques. As a result of this successful collaboration, a Griffonia cultivation school has been created. The very fragile seeds are picked and shelled by hand to avoid damage. They are frozen on site within 24 hours in a cold room for optimal conservation of the compounds.
They are then crushed and extracted using the Phytostandard® process, which is recognised for its respect for the integrity of the plant's compounds. The griffonia extract obtained is alcohol-free. It is then freeze-dried, i.e. cold dehydrated to be put into a vegetable capsule. The manufacturing process, from the Phytostandard® extraction to the capsule filling, is carried out in France, which allows product traceability from production to distribution.
• Certified Organic Agriculture, Phytostandard® Griffonia capsules guarantees that at least 95% of its agricultural ingredients are ORGANIC.
Ingredients
• Organic acacia fibre
• Griffonia extract > Griffonia simplicifolia (seeds) organic
• Vegetarian capsule
• Organic Bamboo Bambusa arundinacea powder (resin)
• Organic rapeseed oil
Nutritional composition:
| Values | For 2 capsules |
| --- | --- |
| Griffonia extract (seeds) | 370 mg |
Instructions for use
Take 1 or 2 capsules a day (at bedtime).
Swallow with a large glass of water.
Store in a cool, dry place.
Precautions
Not recommended to anyone taking anti-depressant medication.
Not recommended for pregnant or breast-feeding women.