Phytostandard® Eschscholtzia
Phytostandard® Eschscholtzia capsules is composed of organic eschscholtzia extract (Eschscholtzia californica Cham.).

The eschscholtzia contributes to optimal relaxation.
The eschscholtzia helps to promote relaxation and mental and physical well-being.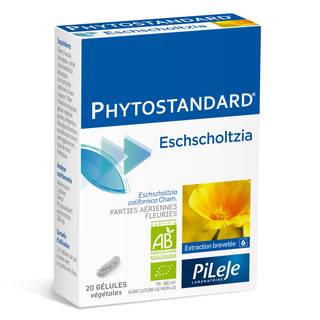 Description
• Vegetarian capsule.
• For more than 20 years, PiLeJe has been developing its know-how in phytonutrition and focusing its demands on the quality of the original fresh plant. The Phytostandard® brand thus brings together high quality plant extracts resulting from this expertise.
• Each plant can contain up to 250 compounds in its cells. All of these compounds form the totality of the plant. The extraction process is a key factor in preserving all the plant compounds. We have therefore selected the parts of the plant that are richest in compounds: the flowering aerial parts of eschscholtzia (Eschscholtzia californica Cham.) to make the food supplement Phytostandard® Eschscholtzia capsules .
• How are the eschscholtzia extracts for this Phytostandard® selected?
Commonly known as the California poppy, eschscholtzia is a perennial annual plant: it lives for more than two years. Sown in May, it can be harvested twice a year (July and October). It is mainly cultivated in the United States and Europe. We harvest it in the Ardèche in July, the month in which its flowers are denser. These are, in fact, the aerial flowering parts that we use in our Phytostandard® extract. These delicate aerial flowering parts are quickly frozen on the spot so that the compounds are preserved.
They are then crushed and extracted using the Phytostandard® process, which is recognised for its respect for the integrity of the plant's compounds.
• The eschscholtzia extract obtained is alcohol-free. It is then freeze-dried, i.e. cold dehydrated to be put into a plant capsule. The manufacturing process, from the Phytostandard® extraction to the capsule filling, is carried out in France, which allows product traceability from production to distribution.
• The need for sleep and the quality of sleep varies greatly from person to person. Many factors such as diet and lifestyle influence rest. Certain plants can therefore naturally promote good quality sleep. After all, eschscholtzia contributes to optimal relaxation.
• Certified Organic Agriculture, Phytostandard® Eschscholtzia capsules guarantees that at least 95% of its agricultural ingredients are ORGANIC.
Ingredients
• Organic acacia fibre
• Eschscholtzia extract > Eschscholtzia californica Cham. (flowering aerial parts) organic
• Vegetarian capsule
• Organic Bamboo Bambusa arundinacea powder (resin)
• Organic rapeseed oil
Nutritional composition:
| Values | For 2 capsules |
| --- | --- |
| Eschscholtzia extract (flowering aerial parts) | 236 mg |
Instructions for use
Take 1 or 2 capsules a day.
Swallow with a large glass of water.
Store in a cool, dry place.
Precautions
Not recommended for pregnant or breast-feeding women and for children.