Phytostandard - Cyprès / Astragale
Phytostandard® Cyprès Astragale is a food supplement based on Phytostandard® extracts of cypress and astragalus and is intended for vulnerable adults and the over-65s.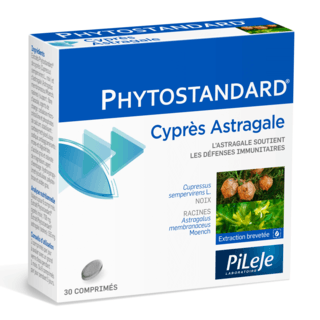 Description
Astragalus supports the immune defence system.
Ingredients
Bulking agents : microcrystalline cellulose and calcium phosphates, Phytostandard® extract of cypress (Cupressus sempervirens L., nuts), Phytostandard® extract of astragalus (Astragalus membranaceus Moench, roots) (carrier : acacia fibre), Stabilizer : sodium carboxymethylcellulose, Anti-caking agents : mono- and diglycerides of fatty acids and magnesium stearate, Coating agents : hydroxypropylmethylcellulose, polydextrose and fatty acids.
Nutritional composition :
| Values | For 6 tablets |
| --- | --- |
| Phytostandard Cypress extract (nut) | 738 mg |
| Astragalus extract (roots) | 555 mg |
Instructions for use
2 tablets per day for 1 month or up to 3 times a day for 5 days as soon as he first signs are detected.
Swallow with a large glass of water.
Store in a cool, dry place.
Precautions
Not recommended for pregnant and breastfeeding women and children.
Not recommended for women with a personal or family history of breast cancer.