Phytostandard ® Curcuma
Phytostandard® Curcuma capsules is a food supplement based on organic Turmeric extract (Curcuma longa L.).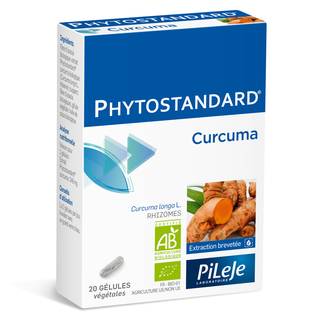 Box of 20 capsules
Box of 60 capsules
Description
• Vegetarian capsule.
• For more than 20 years, PiLeJe has been developing its know-how in phytonutrition and focusing its demands on the quality of the original fresh plant. The Phytostandard® brand thus brings together high quality plant extracts resulting from this expertise.
• Each plant can contain up to 250 compounds in its cells. All of these compounds form the totality of the plant. The extraction process is a key factor in preserving all the plant compounds. We have therefore selected the parts of the plant that are richest in compounds: the rhizomes of turmeric (Curcuma longa L.) to make the Phytostandard® Curcuma capsules food supplement.
• How are the turmeric extracts for this Phytostandard® selected?
We know turmeric for its use as a spice: it is a constituent of "curry". Curcumin, one of its molecules, is used as a food colouring agent. However, this plant has been renowned for thousands of years in Asia.
The part used in Phytostandard® Curcuma extract is the rhizome, which is one year old and has a generally horizontal underground stem. The rhizomes of turmeric are tuberous and bright orange on the inside. They are harvested once the yellow flowers and large leaves of the plant have wilted, and then frozen after harvest to preserve their compounds.
The turmeric is then crushed and extracted using the Phytostandard® process, known for its respect for the integrity of the plant's compounds.
• The turmeric extract obtained is alcohol-free. It is then freeze-dried, i.e. cold dehydrated to be put into a vegetable capsule.
The manufacturing process, from the Phytostandard® extraction to the capsule filling, is carried out in France, which allows product traceability from production to distribution.
• Certified Organic Agriculture, Phytostandard® Curcuma capsules guarantees that at least 95% of its agricultural ingredients are ORGANIC.
Ingredients
• Organic acacia fibre
• Turmeric extract > Curcuma longa L. (rhizome) organic
• Vegetarian capsule
• Organic rapeseed oil
Nutritional composition:
| Values | For 2 capsules |
| --- | --- |
| Turmeric extract (rhizome) | 246 mg |
Instructions for use
Take 1 or 2 capsules a day.
Swallow with a large glass of water.
Store in a cool, dry place.
Precautions
Not recommended to anyone under anticoagulant medication.
Not recommended for pregnant women and people with gallbladder disorders.