Phytostandard ® Bardane
Phytostandard® Bardane capsules is a food supplement based on organic Burdock (Arctium lappa L.) extract.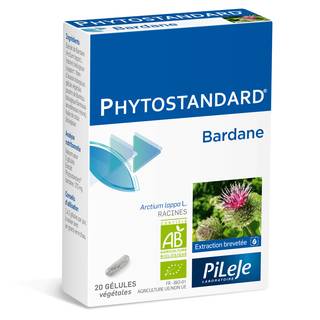 Description
Native to Asia, America and Europe, burdock is a fairly large and robust wild plant.
We choose one or two-year-old roots for our Phytostandard® extract and harvest them late in the year, in November.
Certified Organic Agriculture, Phytostandard® Bardane capsules guarantees that at least 95% of its agricultural ingredients are ORGANIC.
Ingredients
• Burdock extract > Arctium lappa L. (root) organic
• Organic acacia fibre
• Vegetarian capsule
• Organic bamboo Bambusa arundinacea powder (resin)
• Organic rapeseed oil

Nutritional composition :
| Values | For 2 capsules |
| --- | --- |
| Burdock extract (roots) | 370 mg |
Instructions for use
Take 1 or 2 capsules a day.
Swallow with a large glass of water.
Store in a cool, dry place.

Precautions
Not recommended for pregnant or breast-feeding women.