Phytostandard ® Artichaut
Phytostandard® Artichaut capsules is a food supplement based on organic Artichoke extract (Cynara scolymus L., leaves).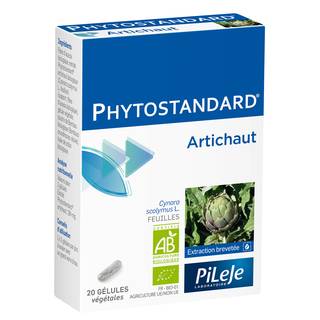 Description
Vegetarian capsule
Artichoke is a vegetable grown in Europe, widespread in our vegetable gardens and appreciated in summer for its aniseed flavour.
We select large fresh organic leaves, which grow on the damp, clayey soils of the Drôme and Ardèche regions.
Certified Organic Agriculture, the Phytostandard® Artichoke capsules guarantees that at least 95% of its agricultural ingredients are ORGANIC.
Ingredients
• Organic acacia fibre
• Artichoke extract > Cynara scolymus L. (leaves) organic
• Vegetarian capsule
• Organic bamboo Bambusa arundinacea powder (resin)
• Organic rapeseed oil
Nutritional composition :
| Values | For 2 capsules |
| --- | --- |
| Artichoke extract (leaves) | 284 mg |
Instructions for use
Take 1 or 2 capsules a day.
Swallow with a large glass of water.
Store in a cool, dry place.