Phytostandard - Artichaut / Radis Noir
Food supplement based on artichoke (Cynara scolymus L., leaves) and black radish (Raphanus sativus L. var. niger., roots) extracts.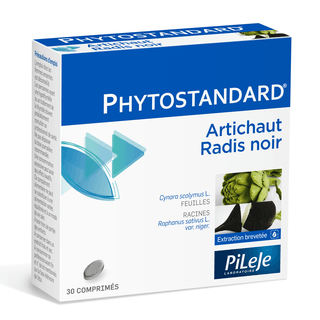 Artichoke & Black radish Phytostandard 30 tablets
Description
Artichoke and black radish extracts are obtained using the patented Phytostandard® process which has been carefully developed to preserve the innate qualities of the plant's compounds.
Prior to this extraction process, artichoke leaves and black radish roots are harvested then quickly frozen and ground to preserve their compounds.
Ingredients
Artichoke and black radish extracts, Cynara scolymus L. (leaves), Raphanus sativus L. var niger (roots), Bulking agents : microcrystalline cellulose, Stabiliser : cross-linked sodium carboxymethyl-cellulose, Anti-caking agent : magnesium stearate.
Nutritional composition :
| Values | For 3 tablets |
| --- | --- |
| Artichoke extract (leaves) | 216 mg |
| Black radish extract (roots) | 204 mg |
Instructions for use
1 to 3 tablets per day.
Swallow with a large glass of water.
To take between meals, ideally in the evening.
Store in a cool, dry place.
Precautions
Patients with hypothyroidism or who are taking medication for a thyroid problem should seek medical advice before taking this food supplement.
Not recommended for pregnant women.
Excessive consumption may have laxative effects.