Melioran ®
Melioran® is a first-line therapy for patients with overloaded emotions and mood sensitivity. It is a blend of selected active ingredients extracted from plants, developed by Pileje based on its scientific and technical expertise.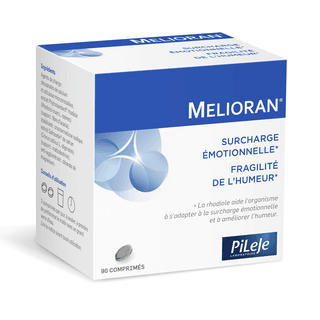 Description
The Rhodiola extract is produced using the patented Phytostandard® extraction process. Rhodiola has many properties: it helps the body adapt to emotional stress, stimulates the nervous system and improves mental wellbeing, including mood.
The Safracetin® extract, made from the stigma of saffron plants from the category 1, "sargol" variety - as per standard ISO 3632 - is the purest grade of saffron.
Ingredients
Bulking agents : calcium phosphates and microcrystalline cellulose, Rhodiola rosea L. Phytostandard® extract (roots)(carrier: acacia fibre), Stabiliser : sodium croscarmellose, Safracetin® extract of saffron Crocus Sativus L. (stigma)(carrier: maltodextrin), Anti-caking agent : magnesium stearate.
Nutritional composition :
| Values | For 2 tablets |
| --- | --- |
| Rhodiola rosea L. Phytostandard® extract (roots) | 308 mg |
| Safracetin® extract of saffron (stigma) | 30 mg |
Instructions for use
Take 2 tablets per day.
Ideally, swallow in the morning with a large glass of water.
Store in a cool, dry place.
Precautions
Anyone currently taking antidepressant medication should not take this product: the combination with saffron extract increases the risk of serotonin syndrome.
Recommended monitoring in case of concomitant use with an antihypertensive.
Contraindicated for pregnant and breast-feeding women, for anyone with bipolar disorder and for children.