Azéol Liquid balm NEW
Azéol LIQUID BALM is a natural formulation that improves skin comfort by combining the action of massaging-in the balm with the effects of its four organic essential oils.
Tested under dermatological supervision.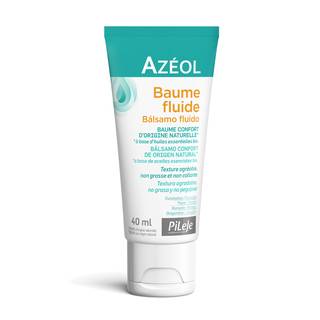 Description
NATURAL SOOTHING BALM BASED ON ORGANIC ESSENTIAL OILS
Pleasant, non-greasy and non-sticky texture Quickly releases an appealing odour.
Ingredients
Organic eucalyptus CT* 1,8-Cineole
Organic thyme CT* Linalol
Organic rosemary CT* 1,8-Cineole
Organic ginger CT* Zingiberene
*CT: Chemotype
INCI ingredients
Aqua, prunus amygdalus dulcis oil, xanthan gum, eucalyptus globulus leaf oil*, camelina sativa seed oil*, thymus vulgaris oil*, zingiber officinale root oil*, rosmarinus officinalis leaf oil*, acacia senegal gum, parfum, oleic acid, sodium hydroxide, linalool**, limonene**, geraniol**, citral**, citronellol**.

Instructions for use
Massage in about a centimetre cubed of balm using small circular movements into the wrists, back of the neck, torso or upper back, 2 or 3 times a day.
Patented technology
Cosmetic product
Precautions
Should not be used by pregnant or breast-feeding women, by children under 12 years old or by anyone who is allergic to any of the ingredients, who has asthma or who has a convulsive and/or epileptic disorder.
Do not apply to irritated, damaged or broken skin or to mucous membranes.
Do not inhale.
Avoid exposure to sunlight after applying the product.