Azéol AF
A food supplement based on camelina oil and essential oils of clove,
cinnamon, and wild carrot.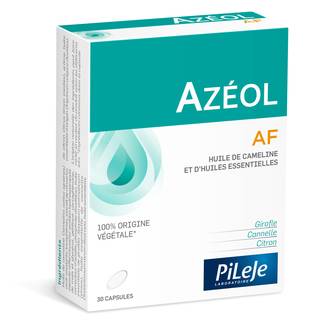 Description
The AZEOL range comprises food supplements developed from research performed by PiLeJe. The basic ingredients of their formulation are either high-quality camelina oil (QualitySilver), chemotyped essential oils or plant extracts and minerals. They are presented as natural capsules or as a spray, syrup or lozenges to optimise their administration.
Ingredients
• Camelina oil Camelina sativa (seeds) (Antioxidants: tocopherols, rosemary extract)
• Capsule (firming agents: hydroxypropyl maize starch and glycerol, gelling agent: carrageenan, acidity regulator: disodium phosphate)
• Clove essential oil Syzygium aromaticum (cloves)
• Cinnamon essential oil Cinnamomum verum (barks)
• Limon essential oil Citrus limon (zest)
• Oregano essential oil Origanum vulgare (leaves)
Due to the natural source of the ingredients, the colour of the product may vary from batch to batch.
* A blend of essential oils tested in vitro
Nutritional composition :
| Typical values | For 6 capsules |
| --- | --- |
| Camelina oil (seeds) | 1350 mg |
| Clove essential oil (cloves) | 54 mg |
| Cinnamon essential oil (barks) | 54 mg |
| Limon essential oil Citrus limon (zest) | 16 mg |
Instructions for use
2 capsules per day up to 15 days or 6 capsules per day for 5 days
Swallow with a large glass of water, ideally during the
meal. Store in a cool, dry place.
Precautions
Not recommended for pregnant or breast-feeding women in case of allergy to cloves, cinnamon or Peru balm. Reserved for adults.
It is recommended to limit the use in time and to ask a professional advice.