Dermobiane Solaire
Dermobiane Solaire contains Polypodium leucotomos extract, Porphyral HSP®, vitamin C and vitamin E.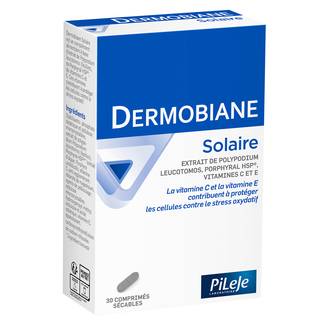 Description
Vitamins C and E help protect the cells from oxidative stress.
POLYPODIUM LEUCOTOMOS : Polypodium leucotomos is a tropical fern that grows on the plateau of the Andean Cordillera in South America, as well as in certain high altitude regions of Central America.
It was introduced to Europe by the botanist Hipólito Ruiz López when he returned from a botanical expedition financed by the Spanish crown at the end of the 18th century.
Ingredients
Stabilisers : dicalcium phosphate and microcrystalline cellulose, Polypodium extract Polypodium leucotomos (leaves), Porphyral HSP® (Seaweed extract: Porphyra umbilicalis) > Patented ingredient, Vitamin C, Anti-caking agent: magnesium stearate, Film-coating agents: microcrystalline cellulose, hydroxypropyl methylcellulose and stearic acid, Vitamin E, Thickener: sodium carboxymethyl-cellulose.
Nutritional composition :
| Typical values | For 1 tablet | NRV* |
| --- | --- | --- |
| Vitamin E | 12 mg α-TE | 100 % |
| Vitamin C | 80 mg | 100 % |
| Polypodium leucotomos extract | 300 mg | |
| Porphyral HSP® | 125 mg | |
*NRV: Nutrient Reference Value
Instructions for use
1 tablet per day for 1 month.
Start taking 15 days before exposing skin to sun.
Store in a cool, dry place.
Precautions
It is essential to use appropriate means of protection (sun cream, hat, sunglasses, etc.) when exposing skin to the sun. Take care and limit the degree of exposure.
Not to be administered to patients with heart problems.
Not recommended for pregnant or breast-feeding women.