Coracol
Coracol new formula.
Food supplement based on monacolin K from red yeast rice, policosanols and coenzyme Q10.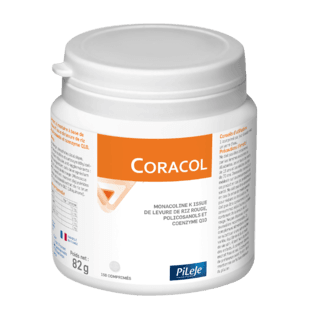 Bottle of 150 tablets I ref. 3701145601011
Description
Coracol is a dietary supplement formulated with :
Monacolin K from red yeast rice
Coenzyme Q10 (ubiquinone)
Policosanols
Ingredients
Bulking agents: dicalcium phosphates, microcrystalline cellulose and cross-linked sodium carboxymethylcellulose
Anti-caking agents: magnesium carbonate, magnesium salts of fatty acids
Red yeast rice (Monascus purpureus) > Supply of 2.9 mg of monacolins
Emulsifier: mono and diglycerides of fatty acids
Policosanols extracted from brown rice (Oriza sativa)
Coenzyme Q10 Kaneka Q10® (ubiquinone)
Nutritional composition :
| Mean analysis | Per 1 tablet |
| --- | --- |
| Red yeast rice | 119 mg |
| > of which monacolins | 2.9 mg |
| > of which monacolin K | 1.9 mg |
| Coenzyme Q10 (ubiquinone) | 2 mg |
| Policosanols | 2 mg |
Instructions for use
Should not be used by pregnant or breastfeeding women, children under 18 years of age and adults over 70 years of age.
Ask a doctor for advice on how to use this product in case of health problems.
Should not be used when taking cholesterol-lowering medications.
Should not be used if you are already taking other products containing red yeast rice.
Do not exceed the recommended daily dose (< 3 mg of monacolins/day).
Precautions
1 tablet per day
Supplement duration :