Chronobiane LP 1,9 mg
Chronobiane LP 1,9 mg is a food supplement based on melatonin, marine magnesium, vitamin D3 and vitamin E.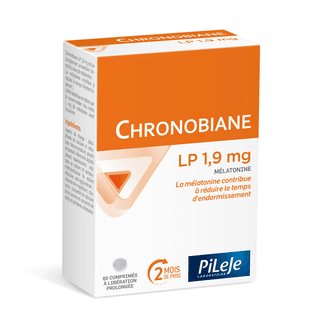 Box of 60 sustained-release tablets
Description
Melatonin helps to reduce the time taken to fall asleep
Magnesium helps to reduce fatigue
Vitamin E helps protect the cells against oxidative stresss.
Ingredients
Bulking agents: calcium phosphates and microcrystalline cellulose, baobab Adansonia digitata (pulp) powder, Thickeners: sodium alginate and cross-linked sodium carboxymethyl cellulose, Anti-caking agent: magnesium stearate, Melatonin, Colours: concentrate of spirulina and apple and concentrate of lemon and safflower.
Nutritional composition :
Typical values
For 1 tablet
Melatonin

1.9mg
Imediate release: 0.4 mg
Sustained-release: 1.5 mg
Instructions for use
Swallow 1 tablet a day with a glass of water.
2 months, to be repeated.
To obtain the beneficial effect, it must be taken 1 hour before going to bed.
It is advisable to seek medical advice before using continuously for several months.
Precautions
Store in a cool dry place.
Do not exceed the recommended daily dose Keep out of the reach of children.
Obtain medical approval before giving to children and teenagers. Not recommended for pregnant and/or nursing women, for people suffering from inflammatory or autoimmune diseases, for people suffering from epilepsy or asthma or from mood, behaviour or personality disorders. Can cause drowsiness. Ask your doctor or pharmacist for advice if taken in combination with a medication.