Arthrobiane
Arthrobiane contains glucosamine sulphate, chondroitin sulphate and galangal extract.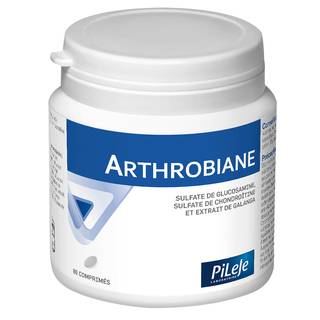 Description
GLUCOSAMINE SULPHATE : The glucosamine sulphate in Arthrobiane is extracted from the chitin present in the shells of crustaceans: shrimp (Penaeus merguiensis, or Penaeus indicus, Penaeidae, Natantia) and lobster (Panulirus stimpsoni).
CHONDROITIN SULPHATE : Chondroitin sulphate is an essential component of the cartilage matrix, present in natural form in the cartilage of cartilagineous fish.
Ingredients
Glucosamine sulphate (from crustaceans), Chondroitin sulphate (marine sources (fish)), Bulking agent: microcrystalline cellulose, Coating agents: hydroxypropylmethyl cellulose, microcrystalline cellulose and acetic esters of mono- and diglycerides of fatty acids, Galangal extract Alpinia officinarum Hance (root), Anti-caking agent: magnesium stearate.
Instructions for use
4 tablets per day for 20 days, repeat as required.
Swallow with a glass of water.
Precautions
Store in a cool, dry place.
Not recommended for diabetics or pre-diabetics, asthmatics, or people treated with anti-vitamin K.
Not recommended for people with a food allergy to shellfish or insects. Not recommended for pregnant or breastfeeding women and children.