Perméaline
Permealine contains glutamine, zinc, vitamin A and green tea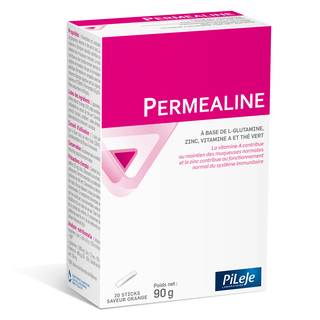 Description
Vitamin A helps to maintain normal mucous membranes.
Zinc supports the normal functioning of the immune system.
Ingredients
L-glutamine, Natural orange flavour (10%), Beta-carotene, Green tea extract Camellia sinensis (leaves), Acidifier: citric acid, Zinc gluconate, Sweetener: sucralose.
Nutritional composition :
Typical values
For 1 stick/day
(4.5 g + 150 ml of water)
NRV*
L-glutamine
3000 mg
Zinc
7.5 mg
75%
Vitamin A (beta-carotene)
400 µg RE
50%
Green tea extract
216 mg
*NRV: Nutrient Reference Value
Instructions for use
1 stick (4,5 g) a day for 20 days, repeat as required.
Not recommended for children, teenagers and pregnant or breast-feeding women (due to the presence of green tea).
Avoid taking away from mealtimes.
Dilute in a glass of water (150 ml)
Precautions
Store in a cool, dry place.