Lactibiane Immuno
Lactibiane Immuno is a mixture of two microbiotic strains and vitamins C and D.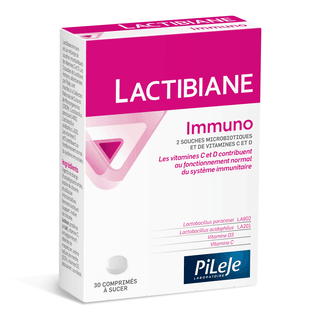 Description
2 specific microbiotic strains containing 1 billion CFU per tablet:
> Lactobacilus paracasei LA802,
> Lactobacilus acidophilus LA201.
Vitamins C and D support the normal functioning of the immune system
This product satisfies the criteria specified in the HQM (High Quality Microbiotic) Charter, which guarantees a rigorous selection of microbiotic strains and manufacturing practices which meet the highest quality standards.
Ingredients
Bulking agents: fructooligosaccharides, chicory inulin and microcrystalline cellulose, Lactic ferments (carrier: chicory inulin, lactose, milk protein), Vitamin C, Vitamin D3, Sweetener: sucralose, Anti-caking agent: magnesium stearate, Natural mint flavour (0.3 %)
Nutritional composition :
| Typical values | For one tablet | NRV* |
| --- | --- | --- |
| Lactic ferments | 2.10⁹ CFU** | |
| Vitamin D3 | 1.5 µg (60 UI) | 30% |
| Vitamin C | 24 mg | 30% |
*NRV: Nutrient Reference Value
**CFU: Colony Forming Unit

Instructions for use
Suck 1 tablet a day, for 1 month. Repeat as required.
Precautions
For adults and children 6 years old and above.
Do not take near meal times.
Store in a cool, dry place.