Lactibiane Enfant drops
Lactibiane Enfant Gouttes contains organic rapeseed oil, 2 billion of a mixture of 5 microbiotic strains and vitamin D3.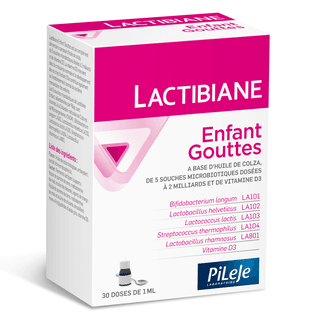 Description
The five microbiotic strains are:
> Bifidobacterium longum LA101
> Lactobacillus helveticus LA102
> Lactococcus lactis LA103
> Streptococcus thermophilus LA104
> Lactobacillus rhamnosus LA801
Vitamin D supports the normal functioning of the immune system in children.
This product satisfies the criteria specified in the HQM (High Quality Microbiotic) Charter, which guarantees a rigorous selection of microbiotic strains and manufacturing practices which meet the highest quality standards.
Ingredients
BOTTLE : Organic rapeseed oil, Antioxidant: an extract rich in tocopherols
SACHET : Lactic ferments (carrier: potato starch, maize maltodextrin, chicory inulin), Bulking agent: potato starch , chicory inulin, maize maltodextrin, Emulsifier: mono-, di- and triglycerides of fatty acids, Vitamin D3
Nutritional composition :
| Typical values | For 1 ml | NRV* |
| --- | --- | --- |
| Rapeseed oil | 1 ml | |
| Lactic ferments | 2.10⁹ CFU** | |
| Vitamin D3 | 1 µg (40 IU) | 20% |
*NRV: Nutrient Reference Value
**CFU: Colony Forming Unit

Instructions for use
1 ml per day (i.e. two, 0.5-ml doses) for 30 days, repeat as required.
Before using for the first time, pour the contents of the sachet into the bottle containing the oil. Seal the bottle with the cap and shake well before using. After mixing, may be stored for 1 month at room temperature. Shake the bottle before administering each dose. Using the dosing pipette, administer 1 ml per day (i.e. two 0.5-ml doses) from a spoon or diluted in a cold or lukewarm drink. May be diluted in a cold or lukewarm drink.
Should ideally be taken before a meal.
Precautions
Store in a cool, dry place. Do not store in a fridge. To consume within 30 days following the opening of the bottle.